How will reforms affect our young people with special needs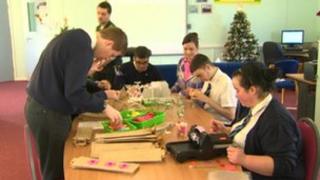 Parents of children at a special school in Lurgan feel completely in the dark about changes to the benefits system.
The legislation is currently going through the Northern Ireland Assembly but it has proved controversial.
The parents at Ceara Special School are most concerned about changes to Disability Living Allowance (DLA) - a benefit many of their children depend upon.
The changes will only affect children who are now 14 years old or older. Younger children and pensioners will still receive DLA.
"A lot of parents of children with special needs have to give up work to look after them," said Fiona Rowan who is mother to 21-year-old Carly, a past pupil at Ceara.
"Some people think we're getting something for nothing, but it's not like that. Being a parent in our circumstances is 24/7 and we're dependent on benefits to give our children a better quality of life.
"Families like us are going to be in for a very rough ride and no-one in the public domain seems to be talking about it.
"An individual has an earning potential, but our children when they leave school at 18 or 19 will never live independently - they will never work. So I see the money she gets from the state - her DLA and incapacity benefit - as her wages."
Parents held a meeting with Craigavon Councillors to try to get their message across. Patricia Cassidy had to give up work to become a full-time carer for her daughter Carla who has Down's Syndrome.
"I had to take quite a drop in salary. The DLA means we can do things with Carla - if I didn't have that her life would be curtailed quite a bit because she is a very outgoing child and she likes to be involved in a lot of activities and that costs money," she said.
So what are the changes?
There are currently three rates of DLA for personal care and two rates for mobility. Those will be streamlined to become two rates for both mobility and personal care.
It is not clear how much the lower rates will be yet, but there has been a commitment that the higher rates in both categories will be no less than the amount currently paid in DLA.
When DLA changes to PIP around 25% of claimants will not have to go through reassessment. They include the most severely disabled who have life-long conditions.
The other 75% can choose to attend an assessment centre or have their interview held in their own home.
There are still unanswered questions. How many people will lose out when one of the categories disappears?
Officials admit there will be people who currently receive the benefit who will not in the future. Having said that, they say there are others who could end up on higher benefits.
For Kirsty McKerr the uncertainty is fuelling her anxiety.
"There's a lot of of stress wondering how we're going to keep up if we lose the extra bit of money we do get," she said.
"It pays for extra washing, getting to the numerous appointments that we have - any cut in our money is going to have a big effect.
"We feel we're already saving the government millions of pounds by giving up work to look after our children - that they're not having to pay for a carer for our children."
There had been concerns that visually-impaired people would have their benefits cut if they had a guide dog. Amputees were also worried they may no longer be entitled to the same level of benefits.
The Department of Social Development said those and other issues should be clarified before Christmas.