Heath 'may have been involved in blaming IRA for McGurks bomb'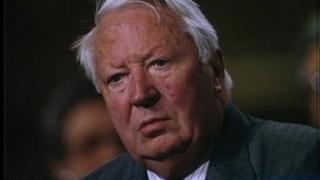 Former prime minister Edward Heath may have been involved in a smear campaign to falsely blame the IRA for a notorious bar bombing, an MP related to one of the victims has claimed.
Fifteen people died when a UVF bomb exploded in McGurk's Bar in Belfast on 4 December, 1971.
The massacre was at first blamed on the accidental detonation of an IRA bomb.
This caused speculation that the dead may have included IRA members who were carrying it.
Labour MP Michael Connarty claimed in the Commons that the British government, led at the time by Mr Heath, was instrumental in spreading the story.
Last year, the Police Ombudsman found there had been no collusion between security forces and loyalist paramilitaries, but concluded there was investigative bias towards blaming republicans.
But Mr Connarty, MP for Linlithgow and East Falkirk, said a new book cast doubt on the findings.
He told MPs: "On December 4, 1971, McGurk's Bar was blown up by a UVF bomb, killing my uncle Philip Garry plus 14 other people including two children.
"On the 41st anniversary of that, a book has been published by Ciaran MacAirt, whose grandmother Kathleen Irvine was also killed in that bomb, showing that after 20 years of investigation there are still closed files, letters not available.
"There was collusion and it was clearly the British government, possibly up to the then prime minister Edward Heath, who colluded and not only co-operated, but instructed that the false story be spread that this was a bomb carried by the people into that bar and it was an IRA bomb in transit."
Shortly after the explosion, then Stormont home affairs minister John Taylor said he believed the IRA was responsible.
In 1978, UVF member Robert Campbell was convicted of his part in the attack.
Mr Connarty urged Prime Minister David Cameron to apologise and order a full investigation.
"Is it not time now for a proper investigation by the British government into the facts of this case, with all the files being open and the Prime Minister coming here to apologise to those families and the community for the malign way in which they were, for six years, blamed for a bomb that was clearly a vicious act against them?"
Answering questions on future Commons business, Leader of the House Andrew Lansley said he would ask ministers to respond to Mr Connarty's claims.