Man jailed for 10 years for manslaughter of Samuel Crawford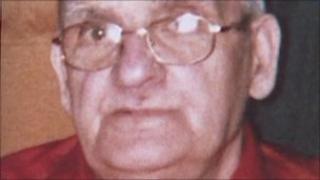 A man has been jailed for 10 years for causing the death of a pensioner during a botched armed robbery at a Belfast newsagents.
Samuel Crawford, 75, suffered a heart attack as he tried to stop Darren Valliday-Smyth, 21, escaping from the shop in November 2010.
Mr Justice Burgess paid tribute to the efforts of Mr Crawford in trying to protect his shop.
Valliday-Smyth, from Clonard Place pleaded guilty to his manslaughter.
He also pleaded guilty in September to attempted robbery and possessing a prohibited weapon.
Mr Crawford's death sparked widespread revulsion in west Belfast, with hundreds of people gathering for a vigil in tribute to him.
The pensioner died in hospital on 3 November, two days after he intervened following the attempted raid at his local shop Cavendish Street, which took place just yards from his home.
The "have-a-go-hero" had tried to use his walking stick to stop Valliday-Smyth leaving the scene after the younger man had attempted to rob McGovern's newsagents while brandishing a CS gas canister.
Mr Crawford collapsed at the scene, and two women came to his aid before he was brought to hospital.
Mr Justice Burgess paid tribute to Mr Crawford's bravery.
"By his actions on this day he is seen as a robust law-abiding citizen, prepared to defend others," he said.
The judge said Mr Crawford's wife Kathleen and son Gerard had been robbed of a "loving and devoted" husband and father.
A lawyer for Valliday-Smyth said his client "would like to extend to the Crawford family his deepest sympathies and regrets about what the consequences of his actions and the death of Mr Crawford".
He said that Valliday-Smyth knew he had to tackle his problems of drink and drug abuse but that while in custody, he had already taken steps to address those issues.
Jailing him for 10 years, the judge said that despite being confronted by an elderly man, the defendant had chosen to spray him in the face with noxious CS gas, showing an "indifference to the consequences of its use".