Underpass plan to ease Belfast traffic bottleneck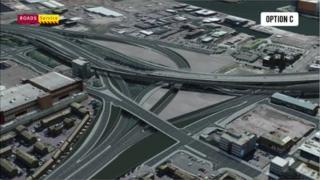 The government would like to see an underpass at the junction of the Westlink and the M2 and M3 motorways in Belfast to ease traffic congestion, a minister has said.
The proposed improvement would give motorists continuous links between three of the busiest roads in NI.
More than 100,000 motorists use these roads daily.
Transport Minister Danny Kennedy said the project would cost between £100m to £135m and could take three years.
"This junction is one of the main gateways to Belfast and provides access to the Port of Belfast as well as serving strategic traffic travelling between the north, south and east of Northern Ireland," he said.
"The preferred option is technically very challenging and a great deal of work has been carried out to ensure the buildability and viability of this project which is a high priority within the Roads Service Programme."
The consultation process is set to continue and there is the possibility of a public inquiry.
It will be at least 2017-18 before the work will begin and it is estimated that it will be 2020 before vehicles are on the road.
Details of the plan:
Movements between M2 and Westlink via underpasses below existing ground level underneath new York Street bridge and existing Lagan Road and Dargan Rail bridges
Westlink to M3 movement via underpass below existing ground level and new York Street bridge
M3 to Westlink movement via underpass below existing ground level under new York Street bridge
All slip roads at Clifton Street remain open
Cost approximately £98m