Mark Haddock murder charge is withdrawn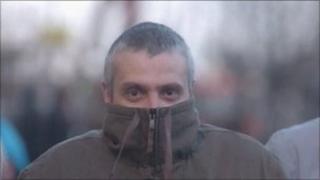 A murder charge brought against a high-profile loyalist and former police informant has been withdrawn by the Public Prosecution Service.
Mark Haddock, 43, formerly of Mount Vernon, Belfast, had been accused of killing John Harbinson in Belfast in 1997.
He had been charged with the murder after a review by the Historical Enquiries Team.
The police investigation into the killing is still going on.
The court in Belfast on Wednesday heard that the move to withdraw, which is linked to the time the case has taken, was being made on a without prejudice basis.
Police will still be able to continue their inquiries and submit a file to the Public Prosecution Service for consideration.
A lawyer for the Public Prosecution Service told Belfast Magistrates' Court: "My application is to withdraw the charge. The case is to proceed by way of a report to the PPS."
He added: "It looks like the investigation is still going to take considerably more time."
Mark Haddock did not appear in court for the brief hearing. Reporting restrictions prevent the publication of any details about his current whereabouts.
Three years ago, he was charged with murdering Mr Harbinson following a review by the Historical Enquiries Team, a specialist police unit set up to examine killings from the Northern Ireland Troubles.
Mr Harbinson, a 39-year-old Protestant, was found dead in May 1997. He had been handcuffed and beaten by a Ulster Volunteer Force gang on the Mount Vernon estate.
Earlier this year, Mark Haddock was one of nine men acquitted of the separate murder of Ulster Defence Association leader Tommy English in October 2000.
Mark Haddock has himself survived an assassination attempt carried out by former associations.
He was shot a number of times and badly injured in a gun attack in Newtownabbey, just outside north Belfast, in May 2006