Narrow Water: Alex Attwood hits back at Wilson comments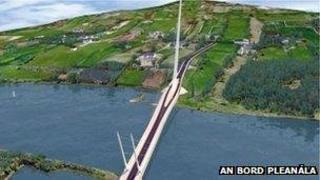 SDLP environment minister Alex Attwood has said it is "cynical" to question approval for the Narrow Water bridge.
On Tuesday, finance minister DUP Sammy Wilson questioned the speed with which the proposed bridge between counties Down and Louth was approved.
"The decision was based on proper process, the response of consultees and good advice," said Mr Attwood.
"To portray it otherwise is wrong, cynical and indicates the lengths a few go to derail a good decision."
He added: "The bridge has widespread cross community and cross-border support and the Assembly, as urged by the SDLP, has directed the Executive to get behind the project. That advice should be heeded."
Mr Wilson had told the Assembly during a debate that he believed there was "a political smell" about the application.
"Yesterday, Sammy Wilson had no rational argument to make against the bridge," said Mr Attwood.
"He knows, because I gave him the information only last Friday, that there is nothing whatsoever inappropriate about the planning permission the project has obtained from my department and from the authorities south of the border.
"Mr Wilson supported the Programme for Government commitment that new article 31 applications should be decided in six months. That is precisely what I did on Narrow Water and will do so on other new article 31s before Christmas."