Press photographers must hand over Ardoyne riot pictures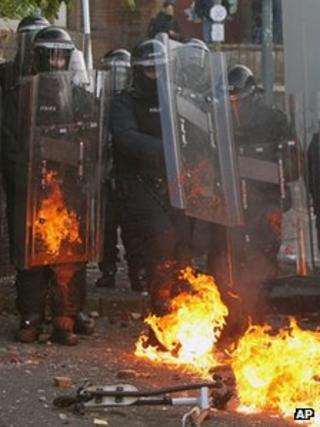 Press photographers must hand over to police all material relating to a riot in Belfast, a judge has ruled.
The legal action was taken by police in Northern Ireland to obtain unbroadcast footage of riots in Ardoyne on 12 July.
Judge David McFarland ordered all material held by Press Association and two photo agencies, Press Eye and Photopress, must be disclosed.
He ruled three broadcasters, including the BBC, did not have to hand over footage.
The police had sought all material shot by the organisations, BBC, UTV, and Sky, during disturbances that followed the passing of an Orange parade.
Representatives of the news organisations successfully argued that as they were not forward of police lines or Police Service of Northern Ireland evidence-gathering cameras during the riot their pictures would not be of more value than those shot by the police themselves.
Officers investigating the riot had asked Belfast Recorder's court to force the news organisations to hand over material shot after 18:00 GMT.
The trouble broke out after members from an Orange lodge walked past the Ardoyne shops on their return from the main Twelfth celebrations in Belfast.
Twenty PSNI officers were injured and 17 shots were fired at police lines.
Up to 90 people were involved in the disorder.
A detective sergeant in charge of the evidence gathering operation told Belfast Recorders' Court that more than 30 suspects had so far been arrested.
Film of a gunman was obtained from YouTube and aerially from a police helicopter.
It shows him emerging from the crowd, opening fire and then running back. The police said he has not been identified.
The detective claimed unused material may hold evidential value, even though it was not regarded as newsworthy.
Judge David McFarland, the Recorder for Belfast, said he had to balance the public interest of identifying and prosecuting rioters against the potential risk to journalists if seen to be assisting in the police investigation.
He stated: "There is no evidence to support the proposition that journalists may become the targets of attack should they be perceived to be evidence gathering for the police."
The judge accepted that no BBC, UTV or Sky journalists were in front of police lines during the rioting.
Due to the obstacles of officers, equipment and vehicles being in front of them, he was not satisfied that those images would be of substantial value to the police inquiry.
However, the judge ruled that photo-journalists were in a different position.
"During this period some were in front of police lines, and they would have had unobstructed views and images," he said.
"In the circumstances I am of the view that this material could have a substantial value to the investigation."
Michael Cairns, BBC Northern Ireland's editor of news gathering, said the judgment recognised that the PSNI has its own efficient camera operation for compiling evidence.
"It has always been our case in the media that we are there to reflect events and not to act as evidence gatherers," he said.
Judge McFarland did rule that material taken earlier in the day, before police were deployed in formation and trouble had broken out, was of worth and must be handed over to police.