Pauline Haveron's son says father was 'Jekyll and Hyde'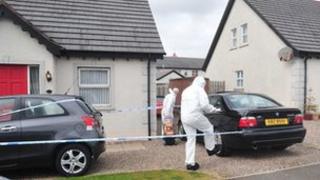 A son of a man accused of murdering his estranged wife has described his father in court as a "Jekyll and Hyde" character with a quick and often violent temper.
Jonathan Haveron was giving evidence at the trial of his father, Alfred Joseph, 58, from Farm Lodge Grove, Greenisland, who denies murdering Pauline Haveron.
The 53-year-old was found dead at her home in Ballyclare on 18 April 2010.
Jonathan said growing up, the house was filled with "anxiety and fear".
Giving evidence at Belfast Crown Court, the eldest son of Alfred Joseph Haveron, said his father would keep a tight control of the use of electricity, the phone and the heating.
"When I talked to my mother about it, the darker times, I would describe him as Dr Jekyll and Mr Hyde," he said.
"At times he could be the most charming man, very helpful and charming but within a split second his temper would go from 0 to 100 and he could be an ogre, very, very threatening."
Mrs Haveron's body was discovered at her home in Huntingdale Green by her lover Andrew Jones, who was a friend of Jonathan Haveron.
At the time of the killing retired police sergeant Mr Haveron and his part-time nurse wife were in the process of an acrimonious divorce having separated in 2003.
Jonathan Haveron told prosecuting QC Liam McCollum that his distinct memories of growing up were of an atmosphere of fear, tension and anxiety in the household where his mum, two brothers and sister "walked on eggshells" fearful of upsetting his father.
He recalled one incident when the family lived in Bangor, describing how he was so young his feet only reached the end of the sofa but his mother was playing charades with church friends when he father "burst into the room".
'Frightening'
"In front of everybody he started shouting at her, right up in her face and I remember spit coming out of his mouth," said Mr Haveron.
"He just raged at her - it was very aggressive and frightening."
Moving on to when the family moved to Greenisland, he told the jury how his mother was decorating the house herself and had picked wallpaper for the study, his father's room, "a room of great tension".
Recounting how he was eight or nine-years-old, Mr Haveron said he was lying in his bed when he heard his father come home and began ranting at his mother:
"His temper just blew up and he started shouting. I don't remember the exact words...but she was pleading with him, starting to cry a little and he appeared to push her around all the walls," he said.
He told the jury he remembered another time in the summer of 2002 when he was at a friend's house and his sister called him to tell him their father had their mother "in a headlock in the back garden and had been swinging her about".
When he arrived at the house, Mr Haveron said his father was talking to a police officer in the garage while his mother was talking to another officer in the living room.
"I remember him saying to my father 'don't worry Joe we will get this sorted'," claimed Mr Haveron.
Asked by the lawyer how his parents were getting on at the time, he told the court the relationship was "getting worse" as his father was increasingly in a bad mood.
Mr Haveron also told the court that he had first met Mr Jones through Ballycraigy Congregational Church where they went to youth fellowship together.
Describing Mr Jones as "socially inept", he told the jury how he came to avoid hanging around with him, asking his parents to tell him he was out when he called, often unannounced.
'Comfort'
Mr Haveron said even when Mr Jones was at his house and he went to bed, his mother's soon-to-be lover sat on and "would not get the hint", leaving Mr Jones and his mother alone and describing how they began to spend more and more time together.
"I was very, very uneasy about that," he told the court but added that "in some ways she was happy and therefore it gave me some sort of comfort".
Mr Haveron said that during all the times he saw his mother and Mr Jones together he never saw him act aggressively towards her or shout, in contrast to his father.
He said that when his parents separated in 2003, he was "just happy she got out".
Jonathan Haveron told the court that his mother's affair gave his father an excuse to play the victim.
"That put him in terms of public perception, which was always very important to him, that made him look like a victim - a victim as a police officer during the Troubles and a victim because his wife had an affair," said Mr Haveron.
He told the jury his mother was glad to be out of the marriage and had wished she had left much sooner.
Mr Haveron said: "There were multiple conversations where she was fearful of her own safety."
The trial continues.