£4m boost for Ballymena town centre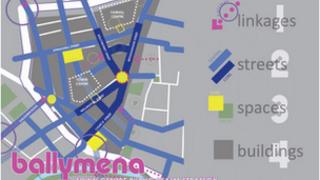 Ballymena town centre is to benefit from a £4m regeneration plan.
Social development minister Nelson McCausland described the proposal as "a very positive move forward."
"Ultimately what we want is to provide a completely new look and feel to the whole of the town centre, putting people first, which is what really matters," he said.
The plan involves creating a focal point and public space at Broadway in the County Antrim town.
The main features incorporated in the scheme for the area are:
The creation of a main focal point for the town centre and public space at Broadway.
The use of high quality materials such as Caithness stone.
Use of bespoke street lighting, street furniture and signage.
Promoting a shared space so that people are given priority over traffic.
The Department for Social Development will provide funding of £2.7m and Ballymena Borough Council will pay £1.3m.
Mayor of Ballymena P J McEvoy said: "This announcement is a great Christmas present to Ballymena. We, in council, set out two years ago to create an ambitious and ground-breaking Public Realm Strategy, which put people first.
"We hope, through energetic management and thoughtful design, the town centre streets and spaces will come alive with people.
"They will be welcomed to the town centre, not only to shop and to work, but to relax, to play, to learn and to enjoy."