Autumn Statement: Guarded welcome from Stormont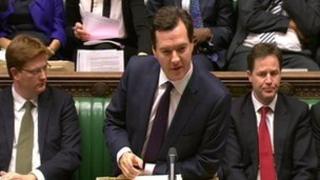 Northern Ireland's Finance Minister Sammy Wilson has given a guarded welcome to the chancellor's Autumn Statement.
George Osborne told MPs austerity measures would go on to 2018, but scrapped a planned 3p fuel duty rise.
However, the Northern Ireland Executive will benefit from an additional £132m of capital spending.
Mr Wilson welcomed this, but said a poor outlook for the UK economy made more public spending cuts likely.
In his address, Mr Osborne updated MPs on the state of the economy and the government's future plans.
The Chancellor announced that benefits would rise by 1% for the next three years, but with inflation at 2.8% it may not boost spending power.
This measure affects more than a quarter of a million people in Northern Ireland.
Mr Wilson said that confirmation that the Treasury would support a derogation from the Carbon Price Floor for Northern Ireland was significant.
"Over recent weeks I have robustly made the case to the Chief Secretary that enforcement of the Carbon Price Floor upon Northern Ireland would have a massive detrimental impact on the local energy sector - for example local generators would have lost out to southern generators and electricity bills could have risen between 10 and 15%.
"I am therefore particularly pleased that HM Treasury have responded positively to our concerns."
"In the current economic hardship this will go some way in assisting those who are most vulnerable ensuring that electricity bills remain at a fair and affordable rate."
However, he said the Office for Budget Responsibility projections were of concern.
"The OBR projections for the UK economy and public finances suggest that further public expenditure reductions will be necessary beyond 2014-15," he said.
"There can be no doubt that the executive will face some very difficult decisions as part of its next Budget setting process. It is therefore critically important that all ministers deal responsibly with key policy areas to ensure that no unavoidable costs are imposed on us."
The main boost for big companies is a cut in corporation tax to 21% in 2014. Smaller businesses benefit from a much increased tax break for investing in new plant and equipment.
The rich have been spared a property tax but will face a higher tax on their pension pots.
Danske Bank chief economist for Northern Ireland Angela McGowan said there was a small boost for basic earners, but there was a real term loss for those on benefits.
"With a higher proportion of Northern Ireland households claiming benefits, the chancellor's welfare reform measures will have a particularly negative impact upon the local economy," she said.
"Other losers include high earners, who will see their tax free allowance for pensions fall."
There are infrastructure benefits, including expanding ultrafast broadband in 12 cities, including Londonderry.
The executive will be able to defer £50m of borrowing through the Reinvestment and Reform Initiative from 2012-13 to 2014-15 to help support investment in the A5 road.
The Treasury also said the personal allowance reforms would allow 8,000 people to be lifted out of income tax and 615,000 more to pay less income tax.
'Mess'
There was also a £32m research partnership for the Queen's University Belfast Institute of Health Science.
Northern Ireland Secretary of State Theresa Villiers said Mr Osborne had taken "further steps to repair the economic mess the government inherited".
"It will help hard pressed families in Northern Ireland while providing a significant boost for jobs, investment and rebalancing the economy," she said.
"We are continuing to take the necessary action to tackle our deficit and live within our means after a decade of irresponsible borrowing, debt and reckless spending."
She said that discussions were also continuing on the case for devolving Corporation Tax to the Northern Ireland Executive.
Responding to the budget, Labour's shadow secretary for Northern Ireland, Vernon Coaker, said he had asked the secretary of state what the chancellor was doing to help get young people in Northern Ireland get back to work.
"The minister said I should 'wait and see' what was in the autumn statement," Mr Coaker said.
"I've waited and seen, and the answer is 'nothing'. The minister needs to realise that it's not good enough to tell the one in five young people out of work to 'wait and see' whether or not there will be any jobs.
"The Westminster government needs to get a grip and take action now to tackle youth unemployment in Northern Ireland."