Toxic gas leak on ship in harbour in County Down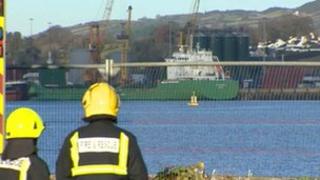 Police and emergency services are dealing with a suspected toxic gas leak on a ship at a harbour in County Down.
The MV Arklow Meadow docked in Warrenpoint harbour with a cargo of grain on Wednesday.
It is understood that it was carrying packets of aluminium phosphide, a pesticide used to kill rodents. However, when it becomes wet it can become unstable and release gas.
Almost 20 people were treated as a result of the toxic gas leak.
The Northern Ireland Ambulance Service said they had been exposed to aluminium phosphide (AIP) gas.
A spokesman said: "It is a chemical incident on a ship. It was reported at 09:47 GMT on Wednesday. Nine people are en route to Daisy Hill Hospital and nine are at the scene. They will be transferred to Craigavon Area Hospital."
A number of homes in the seaside town were evacuated for a time but residents have now been allowed to return.
A Northern Ireland Fire and Rescue Service (NIFRS) spokesperson said: "We are currently dealing with a hazardous material incident at Warrenpoint Harbour involving a toxic substance which has become unstable on board a vessel at the harbour.
"We currently have eight appliances, three specialist appliances and a command support unit at the scene. Nine casualties have been taken to Daisy Hill Hospital.
"The Public Health Agency (PHA) has advised that all risk of adverse health effects associated with this incident applies only to those who have come into direct contact with the gas.
"The emergency services are currently identifying and treating all such individuals.
"The PHA would emphasise that there is no risk to the wider public, but asks that people in the general area cooperate with the authorities to ensure that this incident is handled safely and effectively."
BBC NI reporter Mervyn Jess has been close to the scene overlooking Warrenpoint Harbour.
"While it was off-loading its cargo, I understand some toxic fumes overcame members of the crew and then the alert was raised," he said.
"Ambulance crews arrived and a number of people were taken to Daisy Hill Hospital in Newry.
"I'm told by the hospital that 15 people were brought there, six were ambulance staff who needed to be checked out to make sure they had not been affected by the fumes. Nine people have been admitted to hospital for further treatment and observation."
The MV Arklow Meadow was carrying grain.
"I understand that it carries these packets of pesticides which are basically aluminium phosphides, to keep down rodents that may get onto the ship and eat the grain," he said.
"It's thought these packets may have become damp or wet in some way and that's where the gas came from and that is what sparked this alert."
Due to the north east wind blowing residents living across the lough in Omeath and Carlingford in the Republic of Ireland were asked to keep their doors and windows closed.
Louth County Council, which covers Omeath and Carlingford, put in place emergency measures - these were later stood down.
AlP is used as a pesticide, insecticide, and fumigant for stored cereal grains.
It is used to kill small mammals such as moles and rodents.
AlP is also used industrially.
The vessel belongs to Arklow Shipping, based in County Limerick. It was established in 1966 and specialises in the dry bulk trade. It has a fleet of more than 40 ships and an office in Rotterdam in the Netherlands.
On the firm's website the Arklow Meadow is listed as a grain carrier. It was built in south Korea by the Mokpo shipbuilders in 2010 and has been strengthened for heavy cargo.