Firms fined over worker's arm loss in Belfast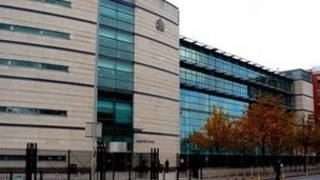 A hire company and a builder's firm have been fined a total of £32,500 after a site worker lost an arm in a mixer.
Thomas McAreavey, 29, was working outside a Belfast primary school when his coat got caught in a mixing paddle and the machine tore his arm off.
JB Plant Hire was fined £12,500 and Scott Ferguson Building Company £20,000 at Belfast Crown Court.
Both firms pleaded guilty to health and safety breaches.
Judge Gordon Kerr QC said the fines were not designed to be a measure of the seriousness of what happened to Thomas McAreavey.
He had earlier heard that Mr McAreavey was working alongside his father when the accident happened on 11 October 2010.
Mr McAreavey had been working with rubberised compound in a mixer when his coat got caught.
Prosecution lawyer Jonathan Lowry said that despite urgent medical attention and being rushed to hospital, surgeons were unable to reattach his left arm.
The breaches of health and safety regulations arose, the court heard, because JB Plant hire had specifically advertised the machine as suitable for use with rubberised compounds, but when it was actually used, site workers found the compound would only come out if the guard was lifted.
Mr McAreavey snr had given a statement that his son had shouted for help "but by the time I got there it had taken his arm off".
JB Plant Hire, of Mullaghmore Road in Dungannon, pleaded guilty to two counts of breaching health and safety regulations while Gerard Ferguson, trading as Scott Ferguson Building Company, from the Kilwee Business Park in Upper Dunmurry Lane, Belfast, pleaded guilty to four such offences.
Handing down the fines, Judge Kerr said while the offences were mitigated by early guilty pleas and unblemished safety records beforehand, the danger of using such a mixer without a guard would have been "commonly known".
"It is difficult to imagine the revulsion and the horror of a father seeing this happen to his son not least the consequences for a young man with a full active working life ahead of him," said the judge.