60 rods stolen from fishing charity Angling First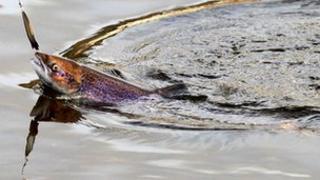 A County Down fishing charity has had 60 rods and other equipment stolen during a break-in.
The equipment was stolen from a shipping container just outside Dromore used by the Angling First charity.
The charity says this year it has taught 2,000 children from deprived areas across Northern Ireland how to fish.
Angling First's Mark McGivern said the container would not have been easy to force open.
"It makes you feel sick, it's probably been someone who has come to our pond, but they won't deter me from continuing," he said.
"There is supposed to be a suicide prevention group coming this Saturday, but I'm not sure if I'll be able to make it possible for this weekend."
Mr McGivern added that it was the second such incident the charity had suffered.
He estimated the cost of the theft at upwards of £600, which he said may be a small amount to bigger charities, but was a lot for Angling First.
The break-in was discovered on Wednesday morning.
In a statement, police said: "Police can confirm that a report was received at approximately 11.24am on the morning of Wednesday 5 December of a burglary at premises in the Lurgan Road area of Dromore.
"This report said that a quantity of fishing equipment had been taken sometime between Sunday 2 December and the time of report."