Long condemns internet threats to Alliance Party colleague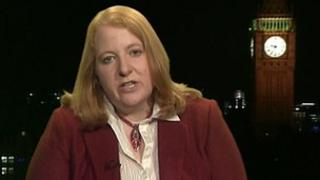 The Alliance MP, Naomi Long, has condemned threats to a party colleague in Belfast, amid controversy over the council's vote on union flag policy.
Councillor Laura McNamee said a threat was posted to her Facebook page on Saturday and she was advised by police not to return home.
On Tuesday afternoon, about 100 loyalists protested outside the Alliance Party offices in east Belfast.
Ms Long said they would not be intimidated.
"That's something that I will not countenance because I believe fundamentally in the rule of law," she said.
"I believe in democracy and I believe that it has to stand, so we will not budge because of intimidation or threat or terror.
"I think if we get to the point that we don't take decisions that we believe are right, simply because of the threat of violence and intimidation, then we no longer have a democracy - what we have is mob rule."
Rioting
Tuesday's protest was at the Alliance Party office on the Upper Newtownards Road, where Ms Long is based.
The building was closed and police were present for the duration of the protest.
The party has been criticised by some for proposing Monday night's council motion that changed a century old tradition of flying the union flag from Belfast city hall every day of the year.
Minutes after the vote inside Belfast City Hall, a loyalist protest outside the building erupted into violence.
Eighteen people, including 15 PSNI officers, were injured in the rioting and some protesters broke through police lines and tried to storm into the hall.