Why has so much heat been generated now over flags?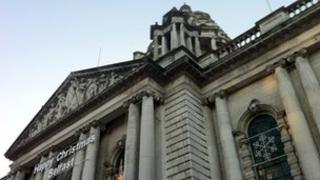 Last Friday I discussed the Belfast City Council flags dispute with the DUP's Nigel Dodds and Alliance's Naomi Long on Inside Politics.
Ms Long used the programme to claim that the DUP's decision to ramp up tensions over the Union flag was part of a campaign to oust her from her East Belfast Westminster seat.
Her claim is perhaps given further resonance by today's loyalist protest outside the Alliance MP's office.
The DUP's Christopher Stalford has countered that the Union flag campaign was a pan unionist effort on a point of principle.
He pointed out that he delivered leaflets highlighting the flag issue together with his Ulster Unionist electoral rivals.
Fair enough, although the days when Reg Empey hoped to topple Peter Robinson are long over.
Incendiary
Few doubt that, assuming there are no boundary changes, that East Belfast will be fought over between Ms Long and, in all likelihood, the current Belfast DUP Mayor Gavin Robinson.
Certainly if the DUP hadn't wanted to undercut Naomi Long's support within the loyalist areas of East Belfast, it's hard to understand why they left it so long to float their suggestion that the Union flag should be erected 365 days a year over the City Hall cenotaph.
Alliance's Maire Hendron has indicated her group will back such an initiative.
If all the effort devoted to running off 40,000 leaflets highlighting the flag issue had instead been put into brokering a compromise around the cenotaph proposal, how much heat might have been taken out of last night's incendiary meeting?
That said, there are clearly other agendas at play. Flag disputes, as I've pointed out elsewhere, have dogged Northern Ireland for decades.
In this latest episode, the Progressive Unionists seem to be taking a more militant line under the leadership of Billy Hutchinson.
In a video message in mid November the PUP leader hardened his party's line on the display of flags.
Clean slate
Mr Hutchinson argues this is in response to republican pressure, but it certainly marks a shift in tone to the conciliatory role played by the likes of the late David Ervine and Dawn Purvis (whose support for Naomi Long proved crucial during the last Westminster election).
Assuming the Westminster coalition government doesn't collapse first, the next general election will be in May 2015.
By the time any future East Belfast MP takes his or her seat, our 11 new councils will have been up and running for just a month. Currently councils with unionist majorities fly the Union flag either all year round or on designated days. Nationalist majority councils tend to fly no flag at all or a neutral council flag.
Given our 11 "super councils" will be brand new entities I'm assuming they will start life with a clean slate.
The governance arrangements of the new bodies have yet to be set in legislation. But what's been under discussion so far has included guarantees for minority rights, with a suggested requirement for contentious decisions to be taken by a strongly weighted majority vote.
80% is one of the options floated, although it's not a done deal. Which raises the question, how many of our new super councils would be able to muster something in the order of an 80% vote for the Union flag?
Returning to Inside Politics, I tweeted on Friday night that Nigel Dodds had taken me to task over criticism aimed at both him and Naomi Long by the programme commentators.
The commentators had attacked the MPs for concentrating on flags rather than "bread and butter" issues, but Mr Dodds pointed out it had been the BBC that set the agenda.
The North Belfast MP had a valid point - I ask the questions and set the agenda, while Mr Dodds made it clear on air that he'd rather be talking about the economy.
Given what transpired at Belfast City hall, I'm satisfied I made the right decision to devote the majority of my Inside Politics questions to the flags dispute, and leave discussion of the Leveson report and the Chancellor's autumn statement until the end.
In retrospect, though, I should have underlined that fact on air when the commentators had their say.