Belfast loyalists protest at Alliance office over flags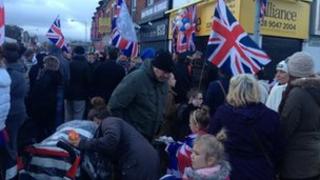 About 100 loyalists held a protest outside an Alliance Party office in east Belfast.
It followed the decision by Belfast City Council to stop flying the union flag every day.
An Alliance party compromise saw the policy changed to flying the flag on up to 20 designated days only.
The office on the Upper Newtownards Road is the base of East Belfast MP Naomi Long. It was closed and police were present.
The was violence at Belfast City Hall and in the east of the city after the council changed its flag policy.
Eighteen people, including 15 PSNI officers, were hurt after loyalists rioted.
Nationalists wanted the flag taken down altogether, but in the end voted on a compromise from the Alliance party that it would fly on designated days.
The vote was 29 to 21, with unionists accusing Sinn Fein, the SDLP and Alliance of attacking their cultural identity.