Department to buy Queen's Parade site in Bangor town centre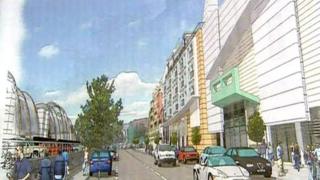 The Department for Social Development (DSD) has agreed to buy a multi-million pound development earmarked for Bangor.
Plans to build a hotel, convention centre, homes and offices on the Queen's Parade site have been in the pipeline for nearly 15 years.
The DSD has agreed to buy the site off the developer behind the scheme, Karl Greenfarm Properties.
Planning permission and control of plans for the development will now be the responsibility of the department.
Karl Greenfarm owe £17m to their bank.
DSD said it will work in partnership with North Down Borough Council and engage directly with local residents, business owners and others who have shown an interest in the development plans.
Nelson McCausland said: "This is good news for Bangor. I have decided that my department will step in to take direct control of plans for the development of the Queen's Parade area of the town as outlined in the Bangor Town Centre Masterplan (BTCM).
"In time it will help breathe life back into the town centre and restore Bangor's image as a destination town with tourist appeal.
"This is a prime opportunity site which when developed will improve the economic performance of the town centre."
The DSD said the master plan had identified Queen's Parade as the most significant opportunity within Bangor town centre.
It said the redevelopment of this area to create a mixed use site offering a range of new services, offices, homes and retail expansion would create the catalyst for regeneration throughout Bangor.
The master plan was developed following extensive consultation with the private and public sector and is intended to inform the development of the town for the next 15 years.
A spokesperson for Karl Greenfarm Properties Limited said: "We have agreed to sell our land portfolio to the department to allow DSD to develop this area in line with the master plan.
"We believe this is a positive step forward for Bangor and will ensure the implementation of the plans in as timely a manner as possible."
The DSD refused to say how much they had paid for the land but its thought to be a fraction of that figure.
Prices of similar developments have dropped by 90% in the property crash.