Ash disease outbreaks in Northern Ireland stand at 16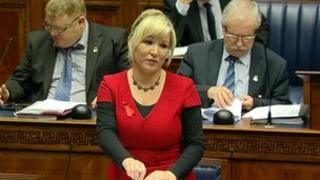 The agriculture minister has said there are now 16 confirmed outbreaks of ash dieback in Northern Ireland.
Michelle O'Neill said that, as of 10:00 GMT on Tuesday, a total of 16 cases of the disease had now been found at recently planted sites with two in trade where material was found before distribution.
She said the disease had been found in Antrim, Down, Londonderry and Tyrone.
The minister added that 8,700 plants had been destroyed so far.
She said that ash dieback had been found to come from four different sources, all of which were linked to imports from continental Europe.
The Chalara ash dieback disease is caused by the fungus Chalara fraxinea.