Marie Fleming launches Ireland's first right-to-die legal challenge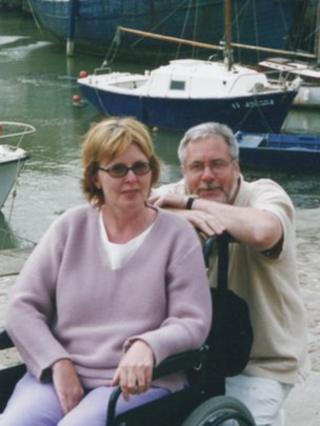 A terminally ill woman is due to begin a court action in the Republic of Ireland on Tuesday, aimed at allowing her to be helped to die.
The case being taken by Marie Fleming is the first of its kind in Ireland.
The 59-year-old former former lecturer was diagnosed with multiple sclerosis in 1986.
She is seeking to establish her partner's legal right to help her die if and when she chooses. The case will be heard at Dublin High Court.
Suicide was decriminalised in the Republic of Ireland in 1993.
However, the ban on assisting another person to commit suicide remains in force and a jail sentence of up to 14 years may be imposed for that offence.
Discrimination claim
Ms Fleming, a former lecturer at University College Dublin, is cared for by her partner, Tom Curran, at their home in County Wicklow.
The mother of two adult children is challenging the constitutionality of the Criminal Law Suicide Act 1993, alleging it discriminates between able-bodied and disabled people.
"Her rights have been taken away, the right to take her own life has been taken away because of her disability and should anyone assist her to do so they face up to 14 years in prison," said Mr Curran.
The case is due to open later before a three-judge High Court, comprising the President of the High Court, Mr Justice Nicholas Kearns, Mr Justice Paul Carney and Mr Justice Gerard Hogan.