From boom to bust and back again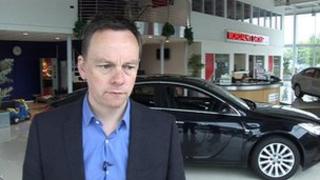 The people of the Irish Republic are bracing themselves for yet another tough budget with tax rises and public spending cuts. But what of the human cost? BBC Dublin correspondent Shane Harrison has been to Tipperary to talk to one man emerging from a dark tunnel of huge debt.
George Mordaunt had it all.
A wife, two young children and a thriving motor car business in the south east.
In Celtic Tiger Ireland, he says, he quickly went from having a small family-run enterprise to four operations with five franchises in four different locations.
"Literally, within a five year period we went from seven staff to 60 staff and from sales of 7m euros to sales of 34m euros. We had a keen eye for marketing. Volumes are what drove this business, small margins, high volumes and access to credit," he tells me.
But that was then.
And the credit soon dried up leaving George Mordaunt with debts of more than 17m euro.
He says there was no bling lifestyle.
He adds: "Someone asked me recently how much of it did I put up my nose? None of it, I have to say.
"I'm guilty really of two things. I worked very, very hard. We spent considerable money on marketing to draw people to our dealerships.
"And, yes, during launches of our dealerships we offered people free helicopter rides. But in terms of my own private life, there were no excesses".
In 2008 matters took a turn for the worse.
He noticed the cash drying up.
And psychologically he moved away from making money to holding on to as much cash as he possibly could.
He says a silent, deadly, invisible fear took hold.
"What happens is that your mind goes into a frenzy of survival mode and you start and plan and pitch and scheme. And you end up doing this 24/7. Your mind is working constantly.
"I would be having Sunday dinner with my family with a smile on my face, as if I was hearing what they were telling me about their week but, actually, I was planning about what might be in the post tomorrow morning," he says.
Eventually the bank, which says it doesn't comment on individual cases, came looking for its money back.
'Bullied'
George Mordaunt says he remembers going to a meeting in Dublin where a senior bank manager in a very macho fashion told him they were coming after the family home.
Feeling bullied he drove back to his family in Clonmel, in south Tipperary, and had what he now realises was a panic attack but which he mistook then for a heart attack.
He says his tipping point was going into his sleeping son's bedroom at 03.00 the following morning.
He adds: "I visualised my funeral. I sat there and I visualised my children walking behind my hearse through the town that I was reared in because of the pressure of a bank.
"And I visualised the next day after the funeral and everybody was gone away and what they would have to cope with.
"And this anger came about me as if to say 'Shame on you' for not fighting harder".
So, he fought.
His aim was to get to every Friday night, watch a movie and have a glass of wine and a Chinese takeaway with his family.
He says his relationship with the bank has since improved.
His debt is down from 17m euros to under 10m euros but he has had to close some of his businesses and his workforce, he says, has dropped from 70 to 17.
He says: "I became very active in my own recovery. I addressed each issue that was holding me back from getting a better quality of life.
"And I re-engaged in my creative side in terms of driving the business. And those three things together are what I call the flashlights in the fog that are leading me home."
George Mordaunt has written a book called, Shepherd's Pie, about his experience believing others can learn from his story of boom, bust and back-again recovery.