Northern Ireland Assembly members get attendance letter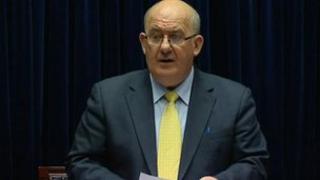 The speaker of the Northern Ireland Assembly has written letters to all MLAs advising them of the importance of turning up to ask questions.
William Hay said he had issued the letters after seven questions were not asked in the assembly last Tuesday.
The questions were either withdrawn at the last minute or the MLAs who submitted them were not present.
The lack of attendance provoked criticism from both the first minister and deputy first minister at the time.
"I want to avoid a repeat of the situation last week," Mr Hay said.
He added he wanted members to recognise the "seriousness of the situation" and said he would reintroduce sanctions on members if the conduct continued.
The TUV's Jim Allister said he would like the warning extended to ministers as questions he had submitted in writing were still unanswered after 16 months.