David Tweed no longer in Traditional Unionist Voice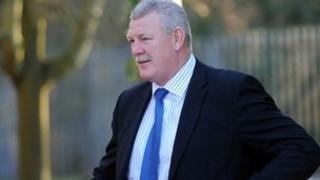 The former Ireland international rugby player, David Tweed, is no longer a member of the Traditional Unionist Voice political party.
Tweed was found guilty last week of 13 charges of sexually abusing two girls over an eight-year period.
The party suspended him in 2011 when Tweed, 53, was charged. He did not renew his membership of the party.
However, the TUV have said that if he had, he would now have been expelled.
Tweed was also thrown out of the Orange Order after his conviction.
He is also an elected Ballymena councillor and a member of the Royal Black Institution (RBI).
A spokesman for the RBI said the process of expelling Tweed from the organisation has begun.
He is due to be sentenced in the New Year.
Tweed remains an elected member of Ballymena Borough Council, to which he was first elected in 1997.
Last week the council said they would be considering what to do "in conjunction with the relevant electoral legislation" but that no decision could be made until the exact sentence was known.