Shocking death toll on Northern Ireland roads falling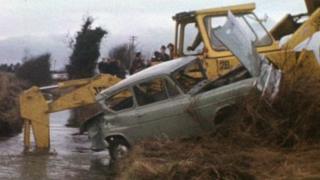 Have you ever wondered how many people have been killed in road crashes in Northern Ireland?
I hadn't either, until I recently read a statistic that shocked me.
In 1972 - the worst year of the troubles - almost 500 people were killed.
Yet in that same year almost 400 - 372 to be exact - were killed on the roads.
One of the most devastating crashes from 1972 happened in a rural area of County Armagh.
Six young people were killed after the car they had been travelling in together ended up in a flooded ditch.
Among them were two sisters - 18-year-old Frances Cromie and her 21-year-old sister Joan.
Forty years on, their brother John Cromie and sister Marion McKillion still remember getting the news and are reminded every time they hear someone dies on the roads.
Since 1972 the Cromie family will have been reminded many times.
In the last 40 years nearly 8,000 people have been killed in road crashes.
That's more than twice the number of people killed in the Troubles.
Improving picture
It may be of little consolation to anyone who has lost a relative or friend in a collision, but looking at the figures the situation does seem to be getting better.
Up until a couple of years ago the number killed each year was always in the hundreds.
This year so far, it is currently standing at 40. And if that trend continues, Northern Ireland looks like it may have the lowest number of road deaths since records began back in 1931.
This week in a special BBC Newsline series, I'll be taking a look at what could be behind the vast reduction and asking what more can be done.