Call for early diagnosis of bowel cancer in Northern Ireland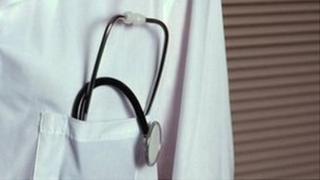 A campaign calling for the early diagnosis of bowel cancer is to be launched at Stormont later.
Bowel Cancer UK said more than 1,100 people were diagnosed with the disease annually, making it NI's second biggest cancer killer.
It said more than 400 people died from bowel cancer every year although it was treatable if caught early.
Despite this, only half those who received a bowel cancer screening test kit actually used it and returned it.
Bowel Cancer UK chief executive Deborah Alsina said that if diagnosed at the earliest stage, a person had a 93% chance of surviving for more than five years.
"We want to increase early diagnosis of the disease, make sure treatment is accessible to everyone who is diagnosed, and improve the experience of patients going through treatment and care," she said.
"MLAs, health professionals, charities and the general public all have a role to play in saving lives from bowel cancer."
Bowel Cancer symptoms include bleeding from the bottom and/or blood in the faeces, a change in normal bowel habits lasting three weeks or more, extreme tiredness for no obvious reason, unexplained weight loss or a pain or lump in the stomach.