Magheralin's first Christmas tree festival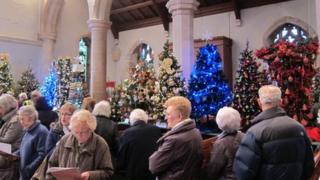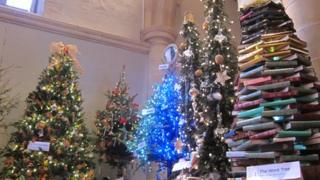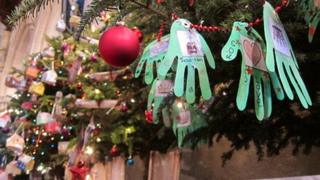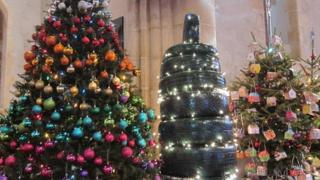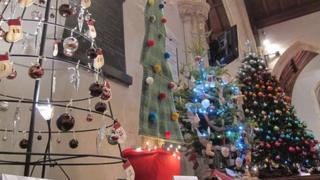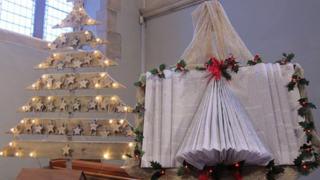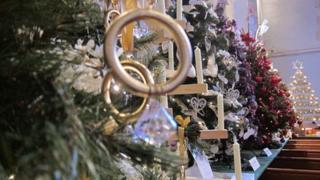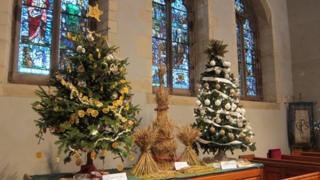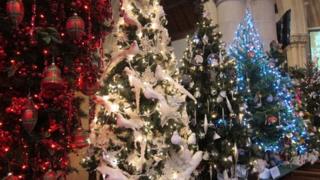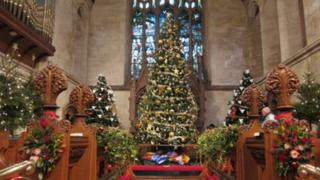 Nativity plays and advent calendars may be the traditional way of doing it, but a village in County Down is telling the story of Christmas via the unlikely medium of trees.
For one weekend only the Magheralin parish church is hosting a Christmas forest of 72 uniquely-designed trees.
Drawn from the fertile imaginations of hundreds of locals, including school children, businesses and community groups, the Christmas Tree Festival is an experience worth sharing.
The brainchild of Eileen Cousins and her daughter Sarah, the festival is the product of a year of thinking and six months of hard work.
Wandering around the church feels a little like being given a glimpse into 72 different Christmases. It's hard not to get into the spirit of the season when being treated to so many different interpretations.
There's a six-foot hand-knitted fir, a tree made of butterflies, the prettiest arrangement of car tyres and Christmas lights you're ever likely to see, and a tree made of broken hearts to name just a handful of the sights on show.
"We have all sorts of trees - some in the shape of angels, sheep and stars - a fabulous bride's shoe, a lighthouse and even a road traffic tree," said Sarah Cousins, events organiser.
It's difficult to get her to pick a favourite.
"I love the water tree and I adore the six-foot knitted tree with pompoms covering it. The book tree - people have told me that's their favourite as well - bibles pilled up and stacked six feet high in the shape of a tree."
'Exquisitely beautiful'
Sarah, who has been a member of the church since being baptised there as a baby, explained where the idea for the festival came from.
"There are Christmas tree festivals over in England and a family who had lived there mentioned the idea, which we had never heard having been done in Ireland before.
"My mum had the idea of telling the story of Christmas through it, the real story of Christmas and then it moved on from that."
Church members worked hard and got local schools, businesses and charities on board to come and decorate a tree of their own.
"I think that's what's so special about this - the wide variety of interpretations that we have. We have a cushion tree, a tyre tree, very unusually structured trees, exquisitely beautiful traditional trees, novelty trees and children's trees as well.
"Through the theme of the Christmas story we've been able to go mad creatively and just get some fabulous creations."
The festival's switching-on ceremony was a cross-community occasion with the local Maralin Village Primary School and St Patrick's Primary School's coming along to sing songs and enjoy the atmosphere.
"We had a countdown with the lights down low and the gasps of excitement whenever the lights went on, magical was the only way to describe it, breathtaking," Sarah said.
"I think people thought they were coming to see a couple of trees with a few lights on them but in fact we have 72 lavishly decorated beautiful trees and everyone goes away saying you just have to see it to believe it."
"The plan was to take them down on Monday, but people have been asking why it does not get to stay up longer. Requests for more time for the festival are a testament to how good it is."
'Overwhelmed'
Entry to the festival is free but there is an opportunity to give a donation. The funds raised will go to the church building fund and a charity called Charlene's Project.
Church rector Gareth Harron said he has been "overwhelmed" by the number of visitors.
"Amazing creativity and lots of hard work has gone in to this and people are feeling rewarded by just how many are coming to see it," he said.
Steven Mallon from Donaghcloney described the show as "excellent".
"I thought it might just be a couple of trees, but it's actually very well done," he said.
"It's very artistic and it has a real effect."
Magheralin local Cherry Logan said it would be good to see the three-day festival return in future.
"But there has been so much work behind the scenes and a brilliant team of ladies and men working, this all doesn't just happen.
"It's been decorated by both sides of the community, but then there are no both sides of the community in Magheralin, because everybody pulls together. I think this is a testament to that."