Man shot in legs in Turf Lodge in west Belfast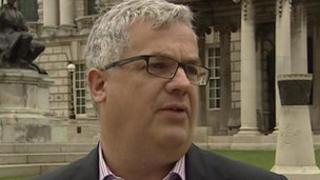 A man has been shot three times in the legs in west Belfast.
The 37-year-old victim was walking in the Downfine Walk area of the Turf Lodge estate when he was approached by two men near the Holy Trinity Centre.
They dragged him through an alleyway before shooting him once in each calf and once in the thigh. His injuries are not believed to be life-threatening.
The attack happened at about 18:30 GMT on Friday.
Police have appealed for witnesses to contact them.
A 15-year-old boy was shot in the leg in the nearby Ballymurphy estate on Thursday morning.
SDLP Councillor Tim Attwood said: "This is the second vicious gun attack in west Belfast in two days, following the shooting of a teenager in Ballymurphy on Thursday.
"The cowardly men, wearing hoods, engaged in these attacks have no place in our community.
"Everybody who believes in human rights and justice must condemn these attacks and give their unequivocal backing to the PSNI in their efforts to police our communities."