Warning over fake Translink flyer in Knocknagoney, Belfast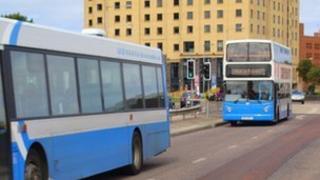 The regional development minister has issued a warning about fake Translink leaflets circulating in east Belfast.
The flyer lists a number of false offers on different travel schemes, as well as claiming that in 2013 all non British citizens will be entitled to a one-off 12 month free travel card.
The minister, Danny Kennedy, said the public should not be taken in by the false claims.
He said its claims on foreign nationals gave it a "sinister" element.
"For anyone to target specific groups of people with fake promises of discounted travel is uncalled for and in very poor taste.
"The leaflet's claim that foreign nationals are to receive free travel gives the impression of being calculated to create friction, if that was the aim then this leaflet takes on an altogether more sinister character.
"Anyone who has received such a leaflet should put it straight in the bin."
The leaflet has been posted through letterboxes in the Knocknagoney area of east Belfast.