Killultagh Estates reports £46m loss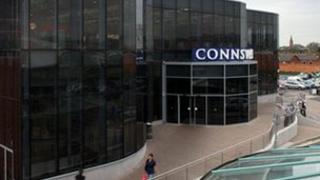 A business controlled by one of NI's major property developers has reported an annual loss of £46m.
The details are contained in the 2011 group accounts of Killultagh Estates, whose sole director is Frank Boyd.
Killultagh owns the Connswater shopping centre in east Belfast and other shopping centres in the UK and Ireland.
The group had an effective trading profit of around £3m, but that was wiped out by a near £50m fall in the value of properties and investments.
Other unrealised losses gave the group a total recognised loss of almost £80m for the year.
That comes on top of total losses of £51m in 2010.
The group's liabilities now outweigh its assets by £80m. The major liabilities are bank borrowings of over £227m.
Last year the firm said that some of those loans had been moved into the Irish government's National Asset Management Agency (Nama).
The group also has loans from Ulster Bank which is not part of the Nama process.
Group turnover, which is essentially rental income from properties, fell from £14.9m in 2010 to £13.9m in 2011.
A note in the accounts states that "the director is pleased with the rental returns achieved".
It continues that "the group, like many involved in property, is facing challenging times in the current economic downturn".
Among Killultagh's other properties are the Bowen Square shopping centre in Northamptonshire, the Pavilion shopping centre in Hertfordshire, the White Rose centre in Rhyl and the Bridgewater shopping centre in County Wicklow