A5 road campaigners 'don't live on Southfork ranches'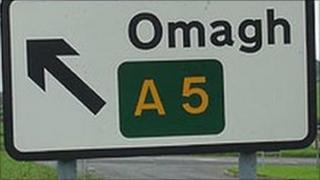 Farmers involved in a legal challenge to a new £330m dual carriageway project do not live on vast Southfork-style ranches, the High Court has heard.
A judge was told the Alternative A5 Alliance's limited finances meant they should only pay a maximum of £5,000 in legal costs if they lose the case.
A group of 18 farmers, businessmen and landowners are challenging the new road between Aughnacloy and Londonderry.
As a result the dual carriageway rejuvenation scheme is now on hold.
A Department for Regional Development barrister argued that the campaign group's bill in those circumstances should be up to ten times more.
Lawyers for the Alliance claim there has not been a proper environmental impact assessment carried out.
Although the application for judicial review will not be heard until next year, they set out their need for a protective costs order to limit their bill should they ultimately lose.
More than 100 other contributors and supporters have raised £75,000 to fund their own legal expenses.
It was argued that, in the event of losing the case, the group should only have to pay £5,000 of the other side's costs.
Gregory Jones QC, for the Alliance, pointed to a European directive and UN Treaty to back his contention that access to environmental justice must not be prohibitively expensive.
He also contrasted his clients' financial circumstances with those of the Ewing family of oil barons in the TV show Dallas.
'Southfork, Texas'
Rejecting any categorisation of the plaintiffs as rich farmers, Mr Jones told the court: "That's not the case.
"It's as far from Southfork, Texas as you can imagine."
David Elvin QC, for the Department, told the court that the Alliance involved property owners with substantial incomes.
He also argued that even if their property is vested they would obtain 90% of its value under an accelerated compensation scheme.
Setting out his views on the protective costs order, Mr Elvin said: "We do think something significantly higher, perhaps as high as £50,000."
Mr Justice Horner said he would rule on the issue next week.
Meanwhile, a separate application for an interim injunction to halt preliminary site preparation work on the A5 scheme will be heard later in December.