Police warn Christmas drivers that one drink is too many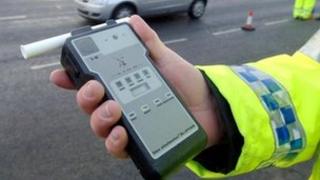 Police in Northern Ireland have launched their Christmas anti drink driving campaign with a warning that one drink is too much.
The Police Service of Northern Ireland will be out in force with over 2,000 breathalysers being carried by officers by cars and on patrol.
Over the festive period last year police detected 429 people who had been drink driving.
Police are advising drivers to not take a single drink and then drive.
Head of Operations Branch, Superintendent Mark Purdon said: "During the winter drink drive operation last year, we detected 429 people who took the risk of killing or injuring themselves, their family, friends and other innocent road users by deciding to drive after drinking.
"This figure was particularly disappointing, but considering that some of these people were so drunk, they could barely stand up, it just beggars belief that some people still insist on attempting to drive after drinking," he said.
'Catastrophic consequences'
"If you find yourself asking the question, I wonder if I'm ok to drive? Or if you find yourself trying to calculate if you are under the drink drive limit, whether that's after one drink, or the morning after a night out, just don't take the risk. The consequences could be catastrophic."
The police have reinforced the message that if you are caught drink driving you will lose your licence for at least a year and will find it difficult to obtain car insurance.
"People don't accidentally have a beer or glass of wine, they make a conscious decision. It only takes one drink to impair your decision-making ability. The only right decision is to leave the car or motorbike at home if you're drinking.
"The message is simple, 'It's never OK to drink and drive," he said.