US Secretary Hillary Clinton to visit Belfast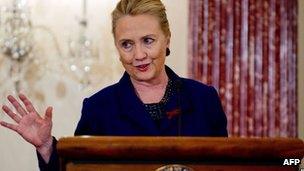 The White House has confirmed that US Secretary of State Hillary Clinton is to visit Northern Ireland.
She will travel to Belfast on 7 December to meet officials as well as discuss the peace process and investment opportunities.
The visit, part of a four-day trip that will also take in Dublin, the Czech Republic and Belgium, could be one of her last foreign engagements.
Her term ends next month, and she has said she does not want a second term.
Mrs Clinton, who visited Northern Ireland three times with her husband, former US president Bill Clinton, during the 1990s, plans to discuss the trilateral US-Ireland Research and Development Partnership and economic opportunities for Northern Ireland.
Later Mrs Clinton will take part in an event hosted by The Ireland Funds - a global fundraising network supporting programmes of peace and reconciliation, arts and culture, education, and community development in Northern Ireland and the Republic of Ireland.
Her journey to Belfast will follow a host of engagements in the Republic. In Dublin she is expected at a ministerial meeting of the Organisation for Security and Co-operation in Europe (OSCE) and will discuss areas of co-operation in promoting peace, human rights, and economic growth with Irish officials to discuss.
She is due to deliver a major speech on US achievements in support of human rights globally.
Mr and Mrs Clinton visited Northern Ireland three times during his time in office from 1993 and 2001.
The most memorable was in 1995 when they turned on the Christmas lights in Belfast just a year after the first IRA ceasefire.
Mrs Clinton has also come to Northern Ireland without her husband.
In 1999 she gave a keynote address to a women's conference and in October 1997 gave the Tip O'Neill Memorial lecture at the University of Ulster's Magee campus in Londonderry.
She has also addressed the Northern Ireland Assembly.