Partner found Pauline Haveron dead in bath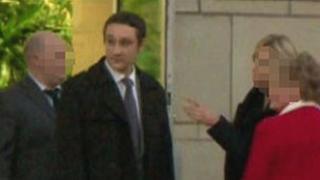 The partner of a murdered policeman's wife wept as he told a court of finding her face down in her bath.
Andrew Jones, 30, was testifying at the trial of Joseph Alfred Haveron, 58, from Farm Lodge Grove, Greenisland.
Mr Haveron, who retired from the police nearly a decade ago, denies murdering his estranged wife Pauline, a part-time nurse, on 18 April 2010.
Although the mother of four was found in her bath in her Ballyclare home, she had not drowned, but was strangled.
Mr Jones told Belfast Crown Court he only realised 53-year-old Mrs Haveron was dead when he saw a paramedic writing "DOA" - Dead On Arrival - on his report form.
Mr Jones said he had first met Mrs Haveron through her children as they all attended the same church in Glengormley, when he was aged about 19.
On the Sunday that she was murdered, Mr Jones said he had gone to Mrs Haveron's Huntingdale Green home to pick her up for lunch.
Initially he was not concerned she had not answered his phone calls beforehand, but then "thought it a bit strange" as he walked around her house trying to find her, he said.
'Shouted name'
Finally he "noticed that the bathroom door in the hall was closed", and opened it.
Asked by prosecutor Liam McCollum QC what he found, Mr Jones replied: "I saw what I thought were clothes in the bath. I went over to the bath and I realised it was Pauline in the bath.
"I shouted her name and put my hands in and lifted her out of the bath," he said, adding that he had held her arms, her wrists, but they were "very stiff".
"I remember pulling her onto me, and on to the floor," said Mr Jones.
He described, how after lifting Mrs Haveron's body up against his, he fell backwards on to the floor, and she landed on top of him before rolling on to the floor.
The court heard that Mr Jones was so hysterical when he attempted to raise the alarm that the 999 operator instructed him to get help.
He said he ran next door where a neighbour took the phone and directed emergency services to the scene.
Later, under cross-examination by defence QC Gavin Duffy, Mr Jones refuted suggestions that Mrs Haveron had found him to be "clingy, possessive and controlling".
Mr Jones claimed that despite their age differences all he ever wanted was "to be with Pauline".
The trial continues on Monday when Mr Jones will again be cross-examined by Mr Duffy.