MPs want air passenger duty on short haul flights to end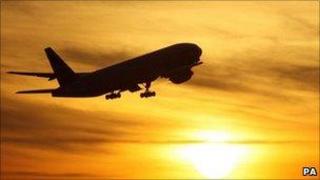 A committee of MPs is calling for a £13 tax on all flights to and from Northern Ireland to be scrapped.
The Northern Ireland Affairs Committee said air passenger duty on short haul flights was a major stumbling block to rebuilding the NI economy.
Such flights make up 98% of all air travel to and from Northern Ireland.
On Friday, Finance Minister Sammy Wilson said he was not convinced of the economic benefits of cutting air passenger duty.
He said the removal of the tax would cost the Northern Ireland Executive about £90m from the block grant it receives from the Treasury.
"There really hasn't been any rigorous economic analysis done as to what the impact would be and whether or not the benefits from spending £90m in that way, would be greater or less than the amount of money spent, or greater or less than the benefits which we would have got from spending £90m in some other way," he said.
The NI Affairs Committee wants the Stormont Executive and the Treasury to look at ways of either reducing or abolishing the tax altogether.
Laurence Robertson MP, chair of the committee, said: "For the people of Northern Ireland air travel is not a luxury, it is fundamental to family and economic life.
"To help rebalance the Northern Ireland economy, it is vital that air links to Great Britain, mainland Europe and the rest of the world are robust.
"That means making sure key routes and landing slots are protected, and that people who have no real alternatives to flying, for business or their family life, are not unfairly penalised by the taxes imposed on air travel."
Antoinette McKeown, chief executive of the Consumer Council, said the committee's report on an air transport strategy for Northern Ireland, which was published on Friday, demonstrated the need for action to support the country's air passengers.
"The Consumer Council has persistently called for air passenger duty to be reduced or removed, access to Heathrow to be secured and we reiterate our call for the relevant government departments to address the various hurdles identified within the report," she said.
"This will ensure Northern Ireland passengers will benefit from a robust network of air services and ensure global connectivity which the committee has rightly identified as essential for Northern Ireland."
At the start of November, the assembly passed the final stage of the Air Passenger Duty Bill.
It cut the tax on long-haul flights out of Northern Ireland.
In its report, the NI affairs committee also called on the UK and the Irish governments to co-operate fully in order to introduce a joint, shared visit visa for the UK and the Republic of Ireland.
It said the current cost of two visas deters both business and leisure travellers from visiting both jurisdictions on a single visit.