Man suing Sinn Fein denies relationship with SDLP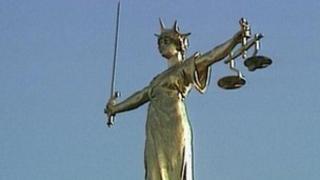 A man taking legal action against Sinn Fein has denied having a "special category relationship" with SDLP MLA John Dallat.
The High Court heard the claim after it emerged that the men had co-authored a draft press release critical of sackings at Northern Ireland Water.
Declan Gormley was fired from its board two years ago.
He is suing Sinn Fein for defamation over the contents of two party press releases.
Mr Gormley spent a second day in the witness box at Belfast High Court where he was cross-examined by a lawyer for Sinn Fein, who are claiming their press releases were defensible responses to attacks on the party and its then minister Mr Murphy.
Mr Gormley, who described himself as a non-political individual, admitted helping to draft a press release for Mr Dallat after they met at a hotel.
He later e-mailed it to the North Antrim MLA, but it was never issued by the SDLP politician, although it was claimed some of the language used later appeared in a letter from Mr Dallat published in the Irish News.
'Language of confrontation'
Mr Gormley, who also met other politicians from all parties, said: "I have no difficulty in Mr Dallat fighting my corner. Mr Dallat was doing what MLAs do."
Sinn Fein's QC said: "You were in it together using language of confrontation and attack."
Mr Gormley replied: "I object to that."
The court heard that Mr Dallat's party colleague, Patsy McGlone, telephoned the Department of Regional Development during the 2010 'big freeze' crisis to demand the then minister Conor Murphy apologise for sacking Mr Gormley over procurement failures.
Mr Gormley said he had no advance knowledge of the call.
However, Sinn Fein's lawyer said: "You knew Mr Murphy and Northern Ireland Water were under huge scrutiny and you were trying to take advantage of the crisis caused by the unbelievably bad weather."
Mr Gormley characterised it as the "cut-and-thrust of politics".
He claims he was unfairly sacked by Mr Murphy and that his position was vindicated in a report by the Public Accounts Committee last year.
One of the Sinn Fein press releases at the centre of the case was issued the same day as the report in the name of MLA Cathal Boylan and it has been claimed it turned the findings of the PAC "on its head".
Both Mr Boylan and former assembly member Willie Clarke, who issued the other release, are also being sued.
The case is expected to run into next week.