Ford appoints new NI criminal justice inspector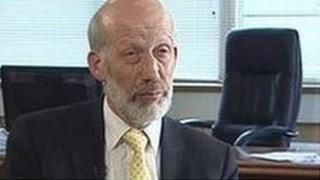 Justice Minister David Ford has appointed a new chief inspector of criminal justice for Northern Ireland (CJINI).
Brendan McGuigan has been acting chief inspector since 16 July 2012.
The aim of CJINI is to promote the effectiveness, efficiency and even-handedness of the criminal justice system in Northern Ireland.
The inspectorate can examine all agencies in the criminal justice system, apart from the judiciary.
The appointment, a full-time post which carries a salary of £102,921, is for three years, with the possibility of an extension following an assessment of satisfactory performance.
Not political
Brendan McGuigan was previously deputy chief inspector and chief executive of the Criminal Justice Inspection NI.
The appointment is not political and the Commissioner for Public Appointments for Northern Ireland requires the political activity of appointees to be published.
Mr McGuigan has declared no political activity and holds no other public appointments.
His appointment as chief inspector is effective from Friday.
Agencies that CJINI may inspect include the police service, prison service, public prosecution service, youth justice and courts.
Justice Minister David Ford said the post was "one of the most challenging and crucial aspects of the criminal justice system".
"Brendan brings a wealth of experience to the role and I look forward to working with him as I continue my reform agenda to create an effective and fairer justice system for the whole of Northern Ireland," he said.