Charities to 'brighten Christmas'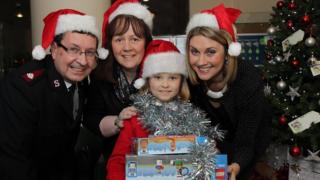 Two charities have teamed up once again to make Christmas brighter for many Northern Ireland children and families.
The Family Appeal is a joint initiative involving The Salvation Army and St Vincent de Paul with broadcast support from BBC Northern Ireland.
Last year's appeal distributed gifts to 12,911 children across Northern Ireland.
All of this was made possible as a result of the generosity of local people and organisations.
It is expected that requests for assistance from this year's appeal will remain high, reflecting the financial difficulties facing many families at this time.
The 2012 Family Appeal was launched in Broadcasting House, Belfast on Thursday at an event hosted by the BBC's Head of Corporate and Community Affairs, Mark Adair and Sarah Travers.
Music was provided by pupils from Holy Family Primary School, Belfast.
"The Family Appeal makes a practical difference to the lives of local children and young people. Every gift has the potential to brighten someone's Christmas," said Sarah Travers.
Major Alan Watters, Leader of The Salvation Army in Ireland, said: "Many families are really struggling during this current economic climate and that's why this year, more than ever, The Family Appeal needs your support."
Aileen Coney, Regional Administrator of St Vincent de Paul said that many families are faced with financial challenges and uncertainty: "Our ability to provide Christmas gifts for local children depends on the donations that we receive. It's helpful for us to receive gifts as soon as possible and for people to think about the needs of teenagers as well as younger children."
Gift donations can be accepted until Friday, 14 December, at any branch of The Salvation Army; Society of St Vincent de Paul; Tesco; First Trust Bank; Open & Direct and Ulster Property Sales.
Other collection points are listed on the BBC NI website.
All gifts must be new and unwrapped and suitable for children and young people - from tiny tots to teenagers. No teddy bears or soft toys are required.
Family gifts of board games and tins of sweets or biscuits are always welcome. Teenagers can often appreciate gift tokens, CDs and toiletries.
If you feel you are eligible for support from The Family Appeal contact your local social worker, health visitor or local branch of either Salvation Army or St Vincent de Paul for guidance notes and an application form. Requests for assistance must be received no later than Friday, 7 December, 2012.
Further information about The Family Appeal is available on the BBC's website at BBC - Northern Ireland - Broadcast Appeals.