Northern Ireland civil service misses sick level target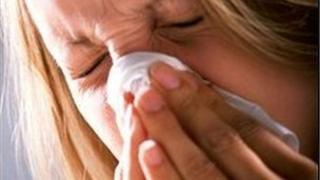 The Northern Ireland Civil Service has again missed its target of cutting sickness levels.
Across the service there was an average of 10.1 sick days, down from the 10.7 last year but over its 10 day target.
The figures, compiled by the Northern Ireland Statistics and Research Agency, represents 4.6% of working days lost, or about £28.6m in lost production.
Absence ranged from 7.1 days in the Department of Health to 12.6 days in the Department of Justice.
The biggest contribution to DOJ's absence level was made by prison staff who were absent for an average of 17.0 days.
The level of absence was highest for staff aged over 55 years of age at 11.4 days and the lowest, 9.4 days, was among staff aged 16-24.
The NISRA report on absence levels said that as in previous years, the "main reason for absence was Anxiety/Stress/Depression/Other Psychiatric Illnesses".
It said that 29.0% of lost days was due to this type of illness and that about one quarter of this was due to work related stress.
The report said the high level of absence in the civil service was due, in large part, "to a relatively small group of staff (10.4%) being absent from work on a long-term basis for an average of 58.6 working days".
This group of staff accounted for 71.3% of the total days lost.
Women take more time off due to sickness than men, 11.9 days compared to 8.4 days, even when pregnancy related disorders were taken into account (10.5 days).
The absence level of women has reduced by almost one third over the last five years.