History uncovered in Fermanagh crannog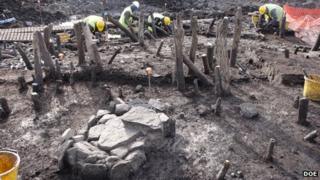 One of the most important and interesting archaeological digs in Northern Ireland is to be revealed to the public during an open day on Saturday.
Workers at the crannog - an artificial island in a lake - in County Fermanagh have been making discoveries almost weekly since the dig began in June.
The Institute for Archaeologists (IfA) had raised concerns about "the apparently imminent destruction" of the historical site. They regarded the crannog as too fragile to preserve rather than excavate after the nearby engineering works for the road scheme drained water from the site.
The new A32 Cherrymount link road near Enniskillen will eventually be built on top of the crannog.
Following a review of progress in July, archaeologists were given more time to recover the information from the site, which has turned out to be of international significance.
The excavation, currently scheduled to end on 30 December, has revealed a wealth of information about living conditions in the crannog.
Inhabitants would have had little private space in the small cramped houses that would have been little bigger than a large modern living room. Cooking and sleeping took place in the same space.
Unwelcome guests
The house walls were insulated with heather and other plants and living conditions were probably cramped but reasonably comfortable for the times.
Humans, however, must have shared their homes with unwelcome guests - bugs and parasites of all kinds, and the surrounding lake would have resulted in damp floors from time to time.
The objects found show that people were very sophisticated in their tastes, living as farming families, butchering their own animals and ploughing the land for crops.
They were skilled at metal working and woodworking, excelling at carpentry to construct the houses and crafting and decorating wooden containers of all sizes.
They played board games, probably around the fire on cold evenings and it is assumed they sang and played music though no instruments have been found so far.
They wove their own cloth with wool spun from their own sheep.
So far, it is known that the crannog was occupied from at least AD 900 to AD 1600, and was probably the home of a noble family, perhaps with four or five houses lived in at any time, and occupied by an extended family of parents, grandparents, children, servants and retinue.
The site continues to reveal finds that have stunned archaeologists.
Some of the most striking finds are, a wooden bowl with a cross carved into its base, a unique find from an excavation in Ireland, parts of wooden vessels with interlace decoration, and exquisite combs made from antler and bone, status symbols that date to between 1000 and 1100 AD.
Timber foundations
Other finds include what is believed to be the largest collection of pottery from a crannog in Northern Ireland, as well as ornaments of iron, bronze and bone.
As the site had been waterlogged, a huge volume of wooden remains have been found, from gaming chess-like pieces, to drinking cups right through to the timber foundations of dozens of houses.
Parts of at least two different log boats have been discovered, and a wooden oar - from deposits several centuries older than the boats - has also been found.
Some of the combs are similar to others found in Dublin and York and dating to Viking times.
Archaeologists have also discovered leather shoes, agricultural equipment, knives and decorated dress pins.
Environment Minister Alex Attwood, who visited the crannog on Thursday to announce details of Saturday's open, said the dig had changed his view of history and Irish life.
"This is the first substantial, scientific excavation of a crannog in Northern Ireland. What has been found has the potential not only to be internationally important but ultimately to lead to a reassessment of life in Ulster in early Christian and medieval times," he said.
"It was important therefore that we took both time and the effort to unearth this rich seam of history. That is why in August I placed an exclusion zone around the site and ensured that the time was given to allow archaeological excavation to proceed."
The crannog open day will include a series of talks at the Fermanagh County Museum, followed by a guided tour of the site.
Access to the site for the tour can only be obtained via an official coach at the Fermanagh County Museum at Enniskillen Castle Museums.
Spaces are limited for the talks and the tour of the site and booking is advisable on 028 6632 5000 (NI) or 048 6632 5000 (ROI).