Big rise in NIE's pre-tax profits for 2012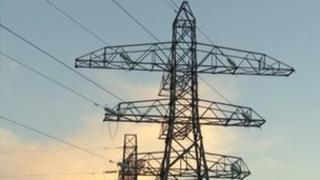 NIE, the firm that owns the Northern Ireland power grid, made a pre-tax profit of £73m in 2012 - a big rise on its £26m profit in 2011.
The jump is largely explained by the regulatory formula that determines how much money the firm is allowed to make.
If the profit in any one year falls short of the amount the regulator allows, then larger profits are allowed in following years.
The 2012 results includes a so-called "over recovery" of £14.4m, reflecting the lower than allowed profit in the previous year.
NIE employs around 270 staff, paying wages of £13m.
Its highest paid director received £276,000 this year, a big drop on 2011 when the highest salary was £659,000.
The firm, which owns the lines and poles that make up the power grid, is controlled by ESB, the Irish state electricity firm.
NIE is currently in a dispute with Northern Ireland's utility regulator about how much it will be able to charge customers over the next few years.
In the spring, NIE applied to the utility regulator to increase the amount they add to customer's bills by £128 over five years.
NIE said they needed the money to cover maintenance and improvements to the network.
Instead the regulator proposed cutting the amount paid to NIE
That would have meant a reduction in the average household bill by £72 over five years.