Attempt to burn down Orange Hall near Glenavy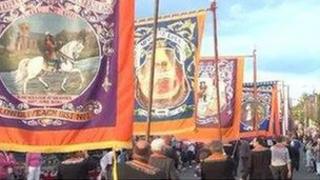 There has been an attempt to set fire to an Orange Hall in County Antrim.
It happened early on Wednesday morning when tiles were removed from the roof of the Fourscore Orange Hall, near Glenavy, and a flammable liquid poured into the building.
Minor damage was caused to the property, which has been destroyed in two previous arson attacks.
James Tinsley, the Worshipful Master of Fourscore True Blues LOL 340, condemned the attack.
"While we are extremely fortunate that the fire did not take hold when set alight, there was clear intent to cause maximum damage and even destruction," he said.
"The fact the perpetrators stole a farmer's gate to gain access onto the hall roof only demonstrates their desire to complete their wicked deed."
Police have appealed for anyone with information about the attempted arson to contact them.