Spat at and kicked: Living rough on Belfast's streets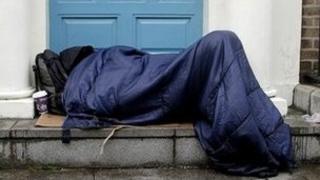 It is a busy Wednesday morning at the Welcome Organisation's drop-in centre, just off the Falls Road in west Belfast.
For 15 years, this group has worked with people who are homeless and sleeping rough in the city.
The atmosphere is congenial, as staff mingle with those who have come in for something to eat and a hot drink on a cold November day.
One of the regulars is Mark Powell. The 44-year-old from Leeds now lives in Northern Ireland - but his situation is far from normal.
For 19 years, Mark has had frequent spells of sleeping rough and has faced physical and verbal abuse in Belfast.
"Many times I have been spat at, kicked in the face and in the stomach. I don't know how many times I have been in hospital," he said.
"When there is a stag night (in Belfast) and you are on your own, you get verbally abused. Some people turn around and say to me 'get a job'."
Mark says when he is targeted, it chips away at the little self-esteem that he has.
"(I feel like I am at) the bottom of the ladder, in the gutter. No-one cares. Sometimes I am in my sleeping bag (on the street) and I just want to get up and walk away," he said.
It is hard to imagine how a person goes from having a job, a family, stability - to a life of uncertainty and not knowing whether they will have a roof over their head every day and every night.
For too many, this is the harsh reality. Mark had a job in England, but said an accident at work triggered a series of events which resulted in him being homeless. His problems did not end there.
"When I was first sleeping rough, I turned to heroin and was on it for 15 to 16 years," he said.
"I am off it now, but I swapped one drug for another and now I am an alcoholic. I was sometimes drinking 12 litres of cider a day, now I am drinking two. I am trying to cut it down and it is making me feel a bit better."
So what is the true scale of rough sleeping in Belfast?
The Northern Ireland Housing Executive said, generally, there are less than 10 people doing so on any given night.
There are 360 beds for homeless people in the city and the housing executive - which pays for another 16 emergency beds - believes that supply is currently meeting demand.
For Mark there is a temporary reprieve from the hardship of having to sleep in a doorway, using cardboard as a substitute mattress.
"At the moment, I am staying at a friend's place in Dunmurry, on the sofa but at least I have a quilt over me at the moment," he said.
"I am a bit worried about what happens after Christmas. I might end up back on the street and I am getting too old for that now. But if it happens, it happens. I've done it before and I can do it again, it doesn't really scare me."
It is sobering to hear someone talk, in such a matter of fact way, about sleeping rough - and the physical and mental anguish that goes with it.
However, it is all Mark Powell has known for nearly half his life. He is full of praise for staff at the Welcome Organisation and the vital support they give to people like him and he even allows himself a glimmer of hope for the future.
"I would love to come off the alcohol, that is what I am trying to do and hopefully I will get there," he said.
"I would also like my own little flat but who knows. No-one knows. I just want to get off the bottom rung of the ladder and starting working my way up."