PSNI rehiring concerns 'could influence recruitment'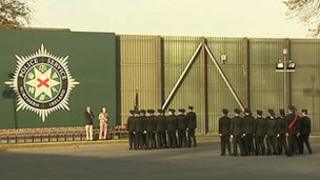 The head of recruitment for the PSNI has accused some politicians of manipulating concerns about the rehiring of retired RUC officers.
Joe Stewart was being questioned by the Public Accounts Committee about the findings of an audit office report.
It revealed that nearly 20% of officers who retired with generous Patten redundancy payments were re-employed.
The director of human resources said he was concerned what impact the issue may have on Catholics joining the PSNI.
"I want to see the broadest level of representation possible coming forward, from Catholics, from republicans, from Protestants, whoever, so that we have the best choice available to serve the public," Mr Stewart said.
"I am concerned that misstatements are made in such a way as to negatively influence young Catholics and nationalists coming forward to apply.
"What's known as the chill factor applies and I think that would be very detrimental were that to take place."
In October, the Audit Office revealed that 1,071 of the 5,500 RUC officers who took redundancy packages under the Patten reforms were later rehired on temporary contracts.
That represents 19% of the total, or almost one in five.
The PSNI has said the policy of employing agency staff is both essential and cost-effective.