Rolling Stones photographs in Dublin after 47 years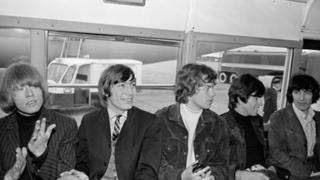 Photographs of The Rolling Stones on tour in Ireland 47 years ago have gone on display at Dublin Airport.
The exhibition, which coincides with the band's 50th anniversary, features 20 black and white images of the band from 1965.
It is the first time that most of the pictures have been publicly displayed.
They include images of the Stones at Dublin Airport, in concert and backstage the Adelphi Cinema.
The Rolling Stones played in Dublin and Belfast in September 1965 in a tour that was immortalised in the recently released documentary, Charlie Is My Darling.
The tour took place just a few weeks after (I Can't Get No) Satisfaction topped the charts and featured the original Rolling Stones line up of Mick Jagger, Keith Richards, Charlie Watts, Brian Jones and Bill Wyman.
Paul O'Kane of Dublin Airport Authority (DAA) said the airport was delighted with the display.
"Forty-seven years after Mick, Keith, Charlie, Brian and Bill touched down at Dublin Airport, they've returned in pictorial form," he said.
"Dublin Airport is delighted to be able to bring these images to a wide audience by displaying them in a public area in Terminal One."
The photographers who took the pictures - Padraig MacBrian and Andy Farren - at the time owned the Dublin-based Lensmen Photographic Agency.
The two men, who are both in their 90s, still live in Dublin.
Lensmen's current owner Susan Kennedy said the recently-discovered Rolling Stones pictures "had been filed away and forgotten for several decades" until they were discovered earlier this year.
"It was a long and winding road to find these wonderful images of the Stones as they were hidden away among about 2.6m negatives in the archive," she said.
"But they are a fantastic find and show the Stones enjoying the first fruits of major success."
Lensmen's Irish photo archive is currently being catalogued and documents 60 years of Irish history.
It is believed it includes many other celebrity photographs that have never been previously published.
The Rolling Stones began their 50th anniversary tour earlier this week with a concert at London's 02 Arena.