Sinn Fein claims Declan Gormley 'connived with SDLP'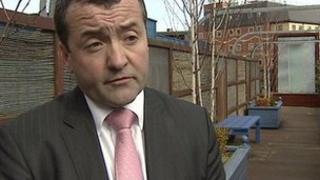 The High Court has heard that Sinn Fein believes a man suing it for defamation has been acting "in connivance" with the SDLP to undermine Conor Murphy.
Declan Gormley is seeking damages against the party and two of its politicians over press statements.
The statements were issued a year after Mr Murphy sacked him from the board of Northern Ireland Water over procurement failings.
On Wednesday, Mr Gormley said he was a "non-political individual".
Giving evidence in the case, Mr Gormley said he has never been a member of the SDLP and told the court it was "utter nonsense" to suggest he put the SDLP up to attacking Mr Murphy.
Sinn Fein argues the two press releases - in the name of Cathal Boylan and Willie Clarke - were a response to a number of attacks by Mr Gormley and the SDLP.