Montupet Dunmurry plant wins contract worth £200m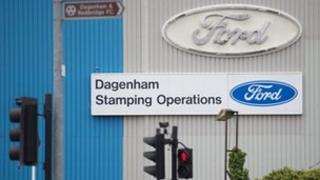 The Montupet UK company on the outskirts of Belfast has won a six-year contract worth almost £200m.
The French-owned company, which manufactures aluminium castings for the automotive sector, has its headquarters in Paris.
It employs more than 550 people at the former De Lorean plant in Dunmurry.
Production on the new Panther cylinder head, which will replace the Puma product currently in production, will begin in 2015.
The parts will be supplied to Ford engine plants in Dagenham, Turkey, South Africa and China.
'Safeguard jobs'
Montupet's UK managing director, Jim Burke, said the order would safeguard employment at the Dunmurry factory.
"Securing this production order is very good news for the future of the plant as it will safeguard jobs and require significant investment in new plant and machinery," he said.
"Winning this order emphasises the ability of the Dunmurry plant to compete in the global automotive marketplace, offering both quality and expertise while remaining economically competitive."
Enterprise minister Arlene Foster congratulated Montupet on winning the contract and added: "Against a backdrop of globally competing manufacturing bases, this news is a great boost for Northern Ireland and will help to safeguard Montupet's future in international markets."