Ex-policeman Joseph Alfred Haveron on trial for wife's murder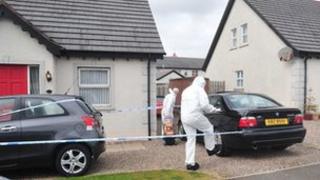 A former police officer has gone on trial charged with the murder of his wife at her home in County Antrim.
Joseph Alfred Haveron of Farm Lodge Grove, Greenisland, denies strangling his wife, Pauline, who was found dead in her Ballyclare home in April 2010.
Mr Haveron and his 53-year-old wife were in the late stages of a divorce settlement at the time of her murder.
The accused denies the charge against him.
As the trial got under way at Belfast Crown Court, the prosecution claimed Mr Haveron murdered his wife because he was "enraged" that she had begun a relationship with a man 25 years her junior.
It was also claimed he was angry at having had to give £150,000, and 25% of his police pension, to his former wife.
The prosecution said the accused had the "motive and the opportunity" to murder the part-time nurse.
He claimed the former RUC officer, who served in the force for 30 years, had driven nine miles to his wife's home and killed her before returning to his own house where their son was sleeping.
CCTV from a number of sources would show a car, that the prosecution claims is the defendant's, travelling towards and away from Ballyclare at a time consistent with the murder.
'Fixated'
The Crown claimed Mr Haveron was "jealous" of and "angry at" his wife.
It was claimed the defendant was fixated with money, had stalked his former wife, threatened her at gunpoint and made threats against her and her young lover.
When told the police had begun a murder investigation he took an overdose and had to be rushed to hospital, the court heard.
He had also appeared "troubled" at church on the day of the murder, but before his wife's body had been discovered, it was said.
Mr Haveron, a committed Christian, had also written a letter to his wife in the months before her murder.
Littered with biblical references, it took her to task over her affair and their divorce negotiations.
The letter, the Crown said, showed he had "considerable antipathy" towards his former wife.
The jury heard that while the case was based on "circumstantial evidence", when they took all the various strands together they would come to the "irresistible conclusion" that Joseph Haveron had murdered his wife.
The case continues.