Restrictions on ex-prisoner advisers may deny opportunities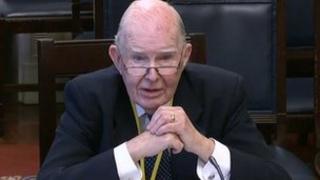 The former chairman of the Ulster Bank has said a bill placing restrictions on ex-prisoners applying to be advisers to ministers may have wider implications.
Sir George Quigley was giving evidence to the Finance Committee on the Civil Service (Special Advisers) Bill.
Jim Allister's private member's bill aims to ban those convicted of an offence with a sentence of five years, or more, from being a special adviser.
Sir George said the move could deny ex-prisoners employment in other spheres.
"If everybody with a conviction of five years or more was going to be automatically denied employment elsewhere outside the special adviser range in Northern Ireland, that would concern me very considerably and the message that would send out," he said.
"Is it sensible to deny these people the opportunity to contribute, and is it reasonable for society to expect them to espouse peaceful democratic means to shape the future, but at the same time refuse them any place in that future?"
He, along with the former head of the Northern Ireland Civil Service head, Sir Nigel Hamilton, explained that they had been asked to co-chair a working group to examine the problems facing ex-prisoners and their reintegration back into society.
Sir Nigel said the party was made up of representatives from ex-prisoners and all paramilitary groups, trade unions, the Confederation of British Industry and government departments.
"I was surprised at the range of issues and blockages there were to reintegration," he said.
Sir Nigel explained that an offence could be expunged from a record, but a similar offence committed in a conflict-related context would remain.
He said the working group was set up to produce guidelines so that both were treated the same way.
Sir George said it had recommended that those convicted of a conflict-related offence should be able to compete with other applicants for employment on a totally level basis, and the employer's decision should be made solely on the basis of an applicant's skills and experience.
He added that only after an applicant had been recommended for a position, and only where relevant to a specific position, should a record check be taken.
He said that the conviction would have to be "materially relevant" to the position and the onus would then be on the employer on whether or not to deny the person the position.