Toxic waste taken from Armagh fuel laundering site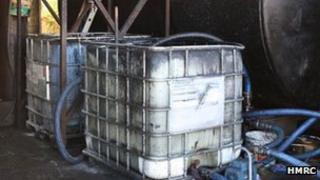 More than six tonnes of toxic waste have been removed from a diesel laundering plant in County Armagh, HM Revenue & Customs has said.
The site in Cullyhanna, which was raided on Tuesday, was capable of producing five million litres of illicit fuel, evading £4m in taxes.
The plant was dismantled after several sheds were searched.
Pat Curtis, HMRC national oils co-ordinator, said such sites generate tonnes of toxic waste.
"As taxpayers and local ratepayers, not only are we missing out on the stolen tax going into the pockets of the criminals, we are also paying the substantial clean up and disposal costs," he said.
"Buying illicit fuel funds crime and supports and encourages these dangerous activities within our communities."
Pumps and equipment were removed from the site and investigations into those behind the operation are continuing, HM Revenue & Customs said.