MLAs criticised for not turning up for assembly questions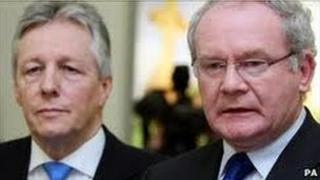 The first minister and deputy first minister have both criticised MLAs for not turning up to ask questions.
Seven questions were not asked in the assembly on Tuesday - either because they were withdrawn at the last minute or MLAS were not in the chamber.
Mr McGuinness called it an "absolute disgrace" given the effort involved in preparing the answers.
David McNarry was one of the MLAs who was not present to ask his question. He apologised for his absence.
"I personally accept the rebuke, I didn't think it was anybody's place to be rebuking me or anybody else but I just wanted to make that position clear," the independent MLA said.
"I didn't think question 11 would be reached and I was absent with a reason but not an excuse and I trust I will be indulged with a written answer to my question."
A Sinn Fein spokesman confirmed that Raymond McCartney did not turn up to ask his question as he had another engagement.
They said Mr McCartney missed his question time slot because he was in the senate chamber at a briefing for MLAs about cancer services in the north-west.
Mr McCartney did excuse himself to go into the chamber to ask his question, but it was too late.
Another Sinn Fein MLA, Cathal Boylan, withdrew his question.
First Minister Peter Robinson said he hoped the assembly would come back to the "subject of members withdrawing questions without any notice being given to us before we stand to our feet".
Penalties
It happened during questions to the Office of the First Minister and Deputy First Minister (OFMDFM).
Deputy First Minister Martin McGuinness said it was time for the speaker to "consider very seriously penalising those members who did not turn up".
"We've just witnessed a question time to the OFMDFM where seven questions, which were tabled for response, were not asked," he said.
"Now I understand that two were withdrawn, but five other members were not present to ask their questions."
Mr McGuinness said civil servants put in a "large amount of effort and time" to prepare the questions for response.
"That is not to mention the first minister who has to stand up along with the junior minister in the department," he said.
Explanations
"Given the work load with being in China, being in Cardiff, and all of the other responsibilities that ministers have at that level of government, I have to say I think it's an absolute disgrace that so many members were not present to answer their questions."
BBC NI political reporter Stephen Walker said different MLAs had different reasons for not being present.
"The Ulster Unionist Party leader Mike Nesbitt said two of his MLAs were on the new welfare committee and that is why they were not present," he said.
"Mr Nesbitt said they asked for their questions to be withdrawn - but the principal deputy speaker said he did not receive that notice.
"The SDLP's Patsy McGlone was due to ask a question, but he was also on a committee at the same time.
"Other MLAs were out of the country."
Stephen Walker said the "hope" was that some of the missed questions would be made into written answers so that the time and effort invested would not been lost.
"I think it is worth pointing out that the answering of questions has become an issue at the assembly with some complaints, particularly from Jim Allister, about the length of time it is taking government departments to reply to questions.
"On Tuesday, it was not the answers, but the lack of questions that has caused the headlines."
In response to the BBC, a spokesperson for the Northern Ireland Assembly commented: "Question time is an opportunity for members to scrutinise the work of executive ministers.
"The speaker has previously expressed his concerns on the issue of members not being in their place for a question, and he will be reflecting on today's official report (proceedings)."