Jury hears evidence in Sinn Féin libel case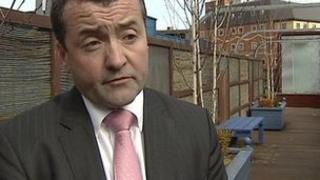 A jury has begun hearing evidence in a libel case brought against Sinn Féin by a man whom Conor Murphy sacked from the board of Northern Ireland Water.
Declan Gormley is suing the party for damages. He claims two Sinn Féin press releases put out last year in support of his sacking were defamatory.
One was issued on the day a Public Accounts Committee report questioned the circumstances of the sackings.
Mr Gormley and three other NI Water directors were sacked by Mr Murphy.
He was minister for regional development at that time.
They were dismissed following an investigation into how contracts were awarded. Mr Gormley denies any wrong-doing.
He issued libel proceedings against Sinn Féin, the party's Newry and Armagh MLA Cathal Boylan, and former assembly member Willie Clarke
On Tuesday, Mr Gormley's lawyer told the court that the press releases from Sinn Fein MLA Cathal Boylan stood the findings of the PAC report on its head and added insult to injury. He described one of them as "reckless if not blatantly dishonest".
Mr Gormley is due to give evidence on Wednesday.
The High Court has heard that part of Sinn Féin's defence will be a legal argument of qualified privilege, that it was entitled to respond to an attack by Mr Gormley.
The seven-person jury began hearing evidence on Tuesday. The case is scheduled to last five days.